Hi guys!
Welcome back to Satisfaction for Insatiable Readers.
Today, we're shining the book spotlight on a Children's Nonfiction title from author Rebecca Bielawski. It's the third release in the Mummy Nature series that sets out to "nurture children's curiosity" about the world around them. Sounds pretty cool, right? It is indeed! Let's take a peek between the epages of today's book of choice...
by
Rebecca Bielawski
About the book...
Discover how seeds travel from place to place. Our narrator excitedly tells us how she saw a pear fall from a tree in the meadow and how a cow came along and ate it. Then the seed began a journey. Where would the seed end up? Would it grow into a big tree with pears of its own?
Using the pear and cow example we can stimulate more questions about seed dispersal and, like all the books in MUMMY NATURE series, Travelling Seeds can be used as a jumping of point for discussion of other topics such as seed germination, plant parts or how plants animals and people interact in nature. On the last page we can see more examples of ways that seeds can be spread.
~~~~~~~~~~~~~~~~~~~~~
Though a short read (as intended), it is memorable nonetheless!
The illustrations are what caught my attention first thing. I love how vibrant and colorful they are. I love how the background, plants, animals, even the fruit and seeds we're following, all have similar lines and designs while the little girl narrating the journey she's witnessed, seems to stand out on her own. In each scene depicted, she looks almost placed there purposely, not merely walking from page to page but somewhat magically appearing and though it might sound strange for a nature book, it REALLY works! As for the actual scenes, though I could have done without the cow manure portion, it's a part of the cycle sometimes and it's handled with enough finesse to make it come off artistically versus crude.
Story wise, I found the rhymes rather clever as not every word or phrase used would be considered the easiest to rhyme. I loved how there was never a gap in the story, each line moving us forward seamlessly to an end that finishes much as it started...with YOU. Did I learn a thing or two along the way? Most certainly! How can you not unless you've previously studied the lifecycle of seeds as a hobby...which I have not...and what I didn't learn fresh today, breathed new life into knowledge stored from school days gone by.
In short, a wonderful read for the wee ones just striking out into the world as well as a delightful reminder for all that everything has a life cycle and its consistency in completion is what helps make the world as we know it continue to be. So, that pear you ate today? Why not plant the seed for future generations to come? Not a pear consumer? Try something else! There's a world of opportunity around you, if you're only willing to look and take action.
~~~~~~~~~~~~~~~~~~~~~~~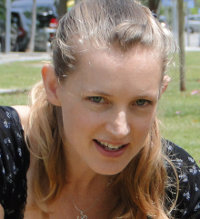 Once upon a time in England there was a Kiwi girl. She was unsatisfied with her job peeling onions at a factory in Norfolk and yearned for a better life were she could harness her untapped artistic potential and unleash all her pent up rhymes. One day when she realized she had no tears left to cry for the onions she packed up and moved to Spain, fell in love with a handsome Systems Administrator, had two kids, became a children's author and lived happily ever after. Born in New Zealand, currently lives and works in Spain.
~~~~~~~~~~~~~~~~~~~~~~~
Special thanks to Rebecca Bielawski for the ebook for review. (THANKS!) For more information on this title, the author, or the series, feel free to click through the links provided above. This title is available now in both ebook and tree book formats, so be on the lookout for it at your favorite online retailers.
Until next time...happy reading!