HI there!
Welcome back to post number two here at Satisfaction for Insatiable Readers.
I DID warn you in the first post of the day that I was on a reading marathon and had not one but two titles to share with you today, so wipe that surprised look off your face...you're going to need all your synapses firing to make sure you take down this title in addition to the first. Why? Well, not only is it a perfect fit for the time of year, but it's HI-larious, moving, disturbing, and heart-warming all at the same time. Curious? You should be because this is one version of how Santa became Santa that's like nothing you've ever seen. Ready or not, here comes today's second book of choice...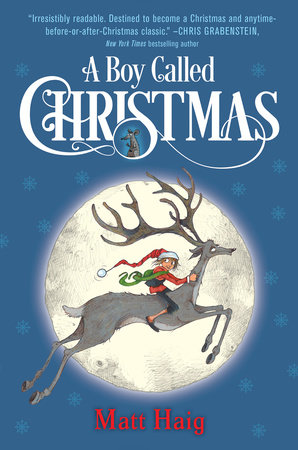 by
Matt Haig
9780399552656
Alfred A. Knopf
About the book...
Before there was Santa Claus, there was a young boy who believed in the impossible. . . . Lemony Snicket meets Elf in this warmhearted Christmas caper.
Eleven-year-old Nikolas—nicknamed "Christmas"—has received only one toy in his life: a doll carved out of a turnip. But he's happy with his turnip doll, because it came from his parents, who love him. Then one day his father goes missing, and Nikolas must travel to the North Pole to save him.
Along the way, Nikolas befriends a surly reindeer, bests a troublesome troll, and discovers a hidden world of enchantment in the frozen village of Elfhelm. But the elves of Elfhelm have troubles of their own: Christmas spirit and goodwill are at an all-time low, and Nikolas may be the only person who can fix things—if only he can reach his father before it's too late. . . .
~~~~~~~~~~~~~~~~~~~~~~~~
I admit, when I first started this book, I was reminded in some general ways of a title I read somewhere in the last twelve months by the name of The Naughty List. The snark, the whit, the heart, and the illustrations seemed very familiar...but the stories themselves were much different adventures, which means more for readers to enjoy, and BOY did I enjoy it!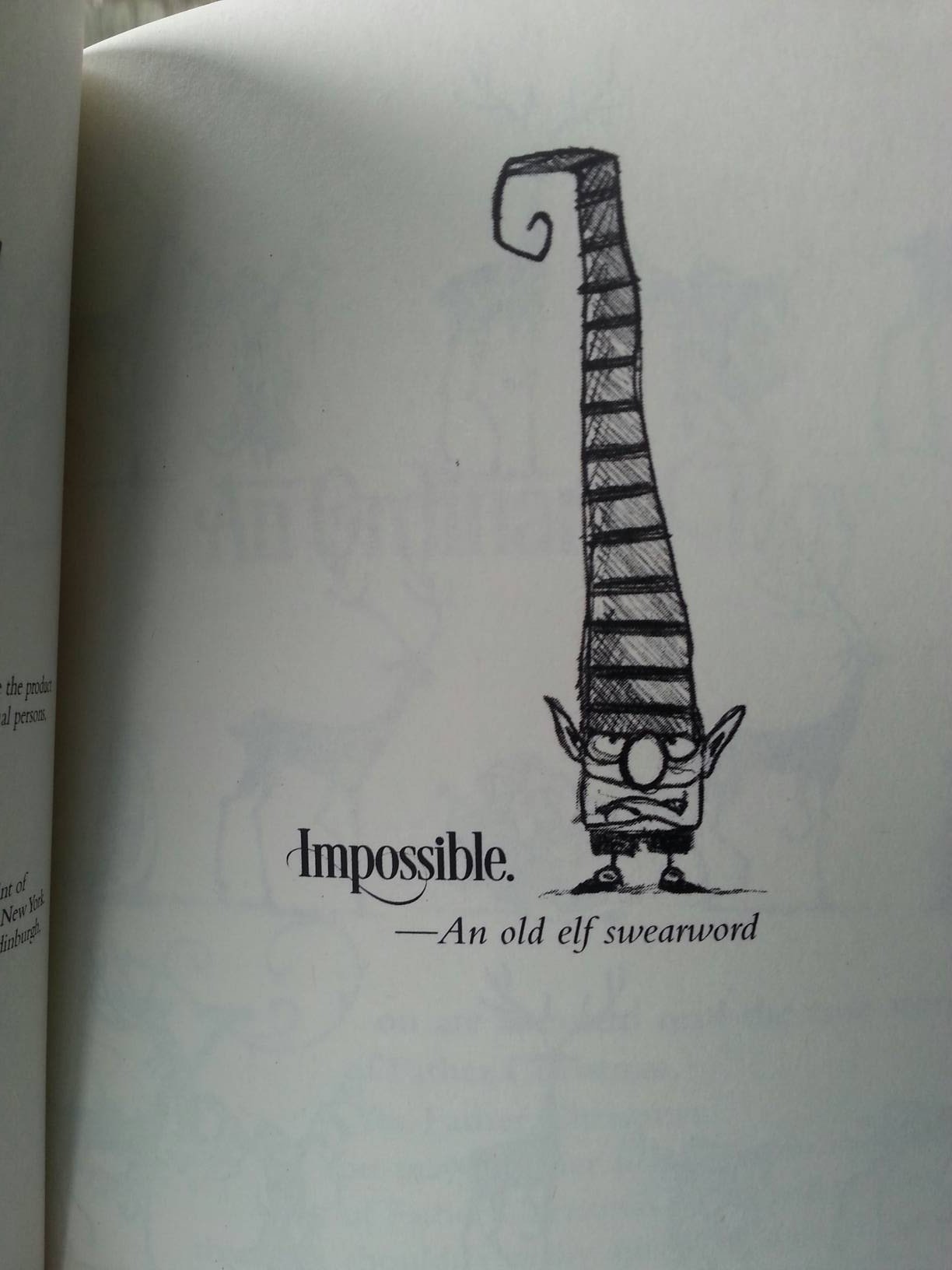 Picture snapped from my ARC
Right from the start, I knew I was in for a FUN read. I mean come on...what else could be concluded from an illustration and definition like that! Here we have the harrowing and inspiring tale of young Nikolas. If you could find a boy with a kinder soul, I'd like to meet them because even after everything that befalls this young lad, he still has hope. When his father takes leave of their home to better their lives, we believes everything will be fine. When Aunt Carlotta comes to "take care of him" (indeed!), but instead throws him out of his own home and feeds him a meal I'd rather forget about, he still finds a moment to feel sorry for her. When he's tossed in elf prison because instead of jolly faces brimming with magic he encounters elves with 'tudes that hate outsiders, he...okay, well he tries to fight back, but only in self-defense, never just to lash out. He's such a great kid and the ideals he holds to, the kindness he keeps kindled in his heart are what truly make him shine.
It's an adventure. It's the long lost story of the big man in red that children wait eagerly for every year. It's a heart warming reminder that everyone has a hand in changing the world, one act of kindness at a time. You'll laugh at Blitzen's antics (seriously, Blitzen...I don't blame you for the aunt but the others!), love little Miika as his cheese dreams become reality, be horrified at his aunt's audacity (oh that woman SO deserved everything she had coming), and even raise an eyebrow at his father's choices (forgiven but hard to forget), but you won't be able to shake the warmth in your heart that grew from a boy's choice of right over wrong, and faith over doubt, even when the odds seemed stacked against him.
So, if you're ready to meet a Truth pixie with explosive desires, a troll that revers Christmas but not so much human life, and a boy who won't give up hope on on father, the elves, or the goodness in people....THIS is your book this holiday season. The illustrations throughout will delight as much as the story entertains, while reaffirming the message of it is better to give than to receive.
~~~~~~~~~~~~~~~~~~~~~~~~~
About the author...
~~~~~~~~~~~~~~~~~~~~~~~~~~~~~~~
Special thanks to Allison at
Random House Children's Books
for the ARC for review. (THANKS!) For more information on this title, the author, or the publisher, feel free to click through the links provided above. This title celebrated its book birthday just last month (November 2016) via Alfred A Knopf, an imprint of Penguin Random House, so be on the lookout for it on a bookstore shelf or virtual retailer of your choosing this holiday season!
Until next time, remember...if it looks good, READ IT!