Hi there!
Welcome back to Satisfaction for Insatiable Readers.
If it feels like deja vu, don't worry...you're partially right. You see, if you're a frequent SFIR reader, you know that yesterday, I had the pleasure of featuring the latest Sarah Morgan release in a review, right here on my site. Today...we get another dose of her wonderful writing with a special Guest Post and holiday recipe, just for you and yours! Sound good? I thought it might. Ladies and gents, I give you courtesy of TLC Book Tours, author Sarah Morgan!
~~~~~~~~~~~~~~~~~~~~~~~~~~~
THE COMFORT OF FESTIVE BAKING
A guest post and recipe by bestselling author Sarah Morgan
Every family has their own festive traditions and top of the list in our house is food! I love to cook, but I especially love to cook at Christmas. There's something therapeutic and comforting (not to mention delicious) about baking in a cozy kitchen watching the cold, frosty winter weather through the windows. The whole family is drawn to the kitchen by the irresistible aroma of warm spices, and it becomes a meeting point and a place to enjoy time together.
This recipe is one of my favorites. I first used it in my book
Sleigh Bells in the Snow
and then adapted it slightly for my current release,
Miracle on 5
th
Avenue
. My children used to enjoy cutting out the shapes, but now they're older, they mostly enjoy eating the results! I hope you do, too.
225g plain flour (2 cups)
175g soft brown sugar (3/4 cup)
1 level teaspoon ground ginger
1 level teaspoon ground cinnamon (more if you prefer!)
100g butter (1 stick/half a cup)
1. Mix the spices with the flour and sift into a bowl.
2. If making by hand, rub in butter then add sugar and egg and knead into it forms a ball of biscuit dough. (If using food processor just put all the ingredients together and blend, adding the egg last.
3.Place dough in fridge (I drop it into a freezer bag) to chill for 20mins
4. Remove from fridge, sprinkle flour and roll dough quite thinly and cut into shapes.
5. Arrange on lightly greased baking trays
6. Cook for 15 mins in pre-heated oven (190 C, 375 F, Gas 5)
7. Place on cooling rack.
~~~~~~~~~~~~~~~~~~~~~~~~~~~~~~~~~~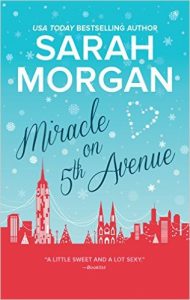 From Manhattan with Love series, Book 3
by
Sarah Morgan
9780373789344
Harlequin


It will take a Christmas miracle for two very different souls to find each other in this perfectly festive fairy tale of New York!
Hopeless romantic Eva Jordan loves everything about Christmas. She might be spending the holidays alone this year, but when she's given an opportunity to house-sit a spectacular penthouse on Fifth Avenue, she leaps at the chance. What better place to celebrate than in snow-kissed Manhattan? What she didn't expect was to find the penthouse still occupied by its gorgeous—and mysterious—owner.
Bestselling crime writer Lucas Blade is having the nightmare before Christmas. With a deadline and the anniversary of his wife's death looming, he's isolated himself in his penthouse with only his grief for company. He wants no interruptions, no decorations and he certainly doesn't appreciate being distracted by his beautiful, bubbly new housekeeper. But when the blizzard of the century leaves Eva snowbound in his apartment, Lucas starts to open up to the magic she brings…This Christmas, is Lucas finally ready to trust that happily-ever-afters do exist?
~~~~~~~~~~~~~~~~~~~~~~~~~~~~


About the author...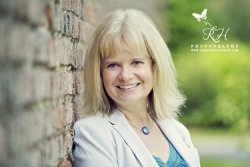 USA Today bestselling author Sarah Morgan writes lively, sexy contemporary stories for Harlequin.
Romantic Times has described her as 'a magician with words' and nominated her books for their Reviewer's Choice Awards and their 'Top Pick' slot. In 2012 Sarah received the prestigious RITA® Award from the Romance Writers of America. She lives near London with her family.




Website | Facebook | Twitter | Instagram | GoodReads
~~~~~~~~~~~~~~~~~~~~~~~~~
Special thanks to
Lisa
at
TLC Book Tours
for the chance to bring this promotion to you, as well as kind regards to author Sarah Morgan for spending a little time with us this holiday season. (THANKS!) For more information on this title, the author, the publisher, or those tours on the horizon, feel free to click through the links provided above. This title is available NOW, so be on the lookout for it on a bookstore shelf or virtual retailer of your choosing.
BEFORE YOU GO...
DON'T MISS YOUR CHANCE TO WIN A BAKING INSPIRED PRIZE PACK TO SWEETEN UP YOUR HOLIDAYS!
JUST
CLICK HERE
TO FILL OUT THE RAFFLECOPTER FORM AND YOU'RE IN IT TO WIN IT!
Until next time, remember...if it looks good, READ IT!