Hi there!
Welcome back to Satisfaction for Insatiable Readers.
Today, we're shining the after dinner spotlight on a Fiction title that came to my attention thanks to the
Fiction Addict
(Thanks, Lori!). With the aptly named story, it screamed for a Saturday night feature, thus our post today....and let me tell you, it's a story that's meant to be savored! Trust me, I generally read on the quick side of things, but I stretched this one out over a week or so to enjoy every moment. So, if you're ready to add to your summer reading list, tie your napkin round your neck and get ready to settle in for a veritable feast, as we explore between the pages of today's book of choice...
Supper Club, Book 1
by
Carla Laureano
9781496424244
Tyndale House Publishers
Denver chef Rachel Bishop has accomplished everything she's dreamed and some things she never dared hope, like winning a James Beard award and heading up her own fine-dining restaurant. But when a targeted smear campaign causes her to be pushed out of the business by her partners, she vows to do whatever it takes to get her life back … even if that means joining forces with the man who inadvertently set the disaster in motion.

Essayist Alex Kanin never imagined his pointed editorial would go viral. Ironically, his attempt to highlight the pitfalls of online criticism has the opposite effect: it revives his own flagging career by destroying that of a perfect stranger. Plagued by guilt-fueled writer's block, Alex vows to do whatever he can to repair the damage. He just doesn't expect his interest in the beautiful chef to turn personal.

Alex agrees to help rebuild Rachel's tarnished image by offering his connections and his home to host an exclusive pop-up dinner party targeted to Denver's most influential citizens: the Saturday Night Supper Club. As they work together to make the project a success, Rachel begins to realize Alex is not the unfeeling opportunist she once thought he was, and that perhaps there's life--and love--outside the pressure-cooker of her chosen career. But can she give up her lifelong goals without losing her identity as well?
~~~~~~~~~~~~~~~~~~~~~~~~~~~
The story features Rachel Bishop, a woman who has come about in a "man's world" on her on skills and merit, only to be knocked off her virtual pedestal by someone trying to help her cause not hurt it. Grant it, she never asked to be a part of any cause....she simply wanted to make GREAT food that would speak for itself, leaving her the shadowy figure in the background known for her work, not her face, or gender, but sometimes things don't go as we had hoped, and such is the case for both her AND Alex Kanin. Alex was the unwitting catalyst to her tumble from on high, but I'll be darned if that man wouldn't take no for answer in trying to fix what was unintentionally broken. I mean, he went much further than most to atone for his mistake, and though Rachel wanted no part of his offer, once again...life can take unexpected detours and a helping hand, in this case, never looked so good. What happens from there is an adventure in culinary style, atmosphere, and technique, but also of the heart...and the combination is tre magnifique!
It's a book that fits into several categories...Fiction, Contemporary, and Christian Fiction...but also into many people's lives. Often times those with a religious vein can become overwhelming to those readers that don't strictly read the genre, but not so here. We have a sampling of faith, but not an overindulgence. It opens our eyes to the mysteries of life, but also offers a reason for their existence without being overbearing. This was my first time reading the author's work and I really liked how she balanced the main story line and the one developing along the way. It never strays too far, though it does mix a little business with pleasure, and allows the characters to seem more three dimensional in due course. After all, when you have sparks flying the likes of which we see between these two, it's hard to say no...and yet we only cross some lines and never THAT line, keeping the story chaste enough for even the easiest blusher amongst us, but spicy enough for the heart to feel a little kick.
In the end, I adored getting to know our leads as well as their families and friends...and fell in love with the idea of a supper club! Really, it sounds like fun and a great way to not only sample delicious fare, but to get to know friends and friends of friends in a relaxed setting. If you're looking for a book that will satisfy your bookish cravings while stoking your physical hunger, this is definitely one to order up next time you're in the market!
~~~~~~~~~~~~~~~~~~~~~~~~~~~~
About the author...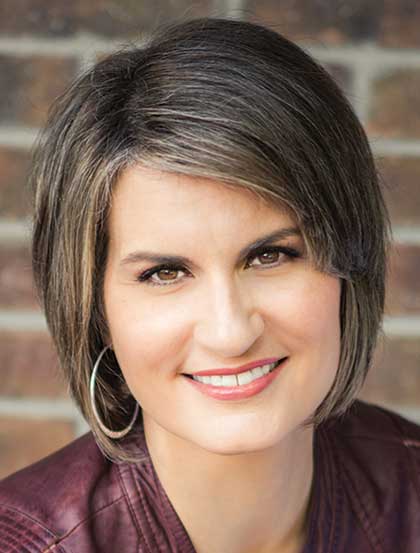 Carla Laureano is the RITA® Award-winning author of contemporary inspirational romance and Celtic fantasy (as C.E. Laureano). A graduate of Pepperdine University, she worked as a sales and marketing executive for nearly a decade before leaving corporate life behind to write fiction full-time. She currently lives in Denver with her husband and two sons, where she writes during the day and cooks things at night.
~~~~~~~~~~~~~~~~~~~~~~~~~~~~~
Special thanks to
Lori
at
Fiction Addict
and Tyndale House Publishers for the copy for review. (THANKS!) For more information on this title, the author, the publisher, or
future promotions
, feel free to click through the links provided above. This title is available now via Tyndale House Publishers, so be on the lookout for it on a bookstore shelf or virtual retailer of your choosing.
Until next time, remember...if it looks good, READ IT!