Hi guys and gals!
Welcome back to Satisfaction for Insatiable Readers.
Today, we're diving between the pages of a recently released title by Jill Shalvis. If you've not read her work and you're a fan of Contemporary Romance, I HIGHLY suggest you do because of the two titles I've read so far, I'm definitely a fan! The book on the docket for today is the third release in the Heartbreaker Bay series and tells the story of Elle Wheaton and Archer Hunt...or perhaps it's better stated as the "non story"...initially at least. Fellas, take a hike...ladies, gather round! It's time to indulge in this page turner of a tale laced with snark, sexy times, and danger. Today's book of choice is...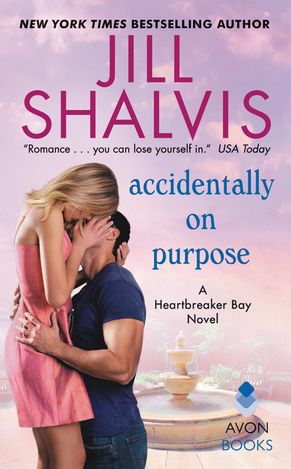 Heartbreaker Bay series, Book 3
by
Jill Shalvis
9780062448064
About the book...
There's no such thing as a little in love . . .
Elle Wheaton's priorities: friends, career, and kick-ass shoes. Then there's the muscular wall of stubbornness that's security expert Archer Hunt—who comes before everything else. No point in telling Mr. "Feels-Free Zone" that, though. Elle will just see other men until she gets over Archer . . . which should only take a lifetime . . .
There's no such thing as a little in lust . . .
Archer's wanted the best for Elle ever since he sacrificed his law-enforcement career to save her. Their chemistry could start the next San Francisco earthquake and he craves her 24/7, but Archer doesn't want to be responsible for the damage. The alternative? Watch her go out with guys who aren't him . . .
There is such a thing as . . .
As far as Archer's concerned, nobody is good enough for Elle. But when he sets out to prove it by sabotaging her dates, she gets mad—and things get hot as hell. Now Archer has a new mission: prove to Elle that her perfect man has been here all along . .
~~~~~~~~~~~~~~~~~~~~~~~~~~~
Oh my word.
I'm not generally one of those girls that goes gaga for a man in uniform, but yeah, if Archer wasn't already potentially taken (and a fictitious character), I'd totally be in line.
Elle is a strong leading lady, after all with the cards she'd been dealt in life, she HAD to be, but being strong doesn't mean never asking for or accepting help...a lesson she's going to learn the hard way. She's always been the one giving, caring, taking care of, and the like. She makes it a point of knowing what others need even before they know so she can have it all handled with a polished edge to spare. Spence can attest to it, so can pretty much ANYONE in her inner circle of friends...including those "friend zoned" by choice. Curious about that last part? Good...because that brings us to our leading man.
Archer is a man with a past...a past that happens to be connected to the woman working her tail off to make a name for herself in the very building his investigation services are housed, but a past nonetheless. Strange coincidence, right? Sure...all just random I'm sure. *smirk* Anywho, past connections aside, he'd have to be blind to not notice Elle (same goes for her noticing him) and we're talking more than simply her stellar looks (ditto on the vice versa). She's got that something that makes her shine brighter than the rest, but for him, she's off limits. Oh wait, no...that extends to pretty much anyone that shows interest because yeah, no one is good enough for her...according to SOMEONE. I'll give you one guess who that is?
Things have been building to a crescendo for a long time now, but that straw that broke the camel's back (or the bodies that broke the decorative loveseat) is about to make an appearance. Perfect timing! Now everyone can be happy, get theirs, and ride off into the sunset, right? WRONG...for you see, not everyone is being truthful with themselves about their feelings nor forthcoming with why they refuse to feel them. It's enough to make you want to grab them both by the collar and say TALK, DARN YOU! TALK! (I think I pretty much outburst that way once or twice as I was reading too....) Grant it, while talking may not be their top skill, they have other things in common...*ahem*...but they're both too smart to simply let it go on without sorting out what exactly they might be. Labels may suck, but clarification is necessary...as is saying what you mean which created a whole other bothersome hurt feeling scenario when we were just getting ready to settle into a grand ending!
In the end, sparks flew, heads were turned, moments were made, and dangers were fought. Some came out on top, other simply came out clean on the other side, but however you slice it, this was a GREAT READ. It had more than simply the gentle elements of a typical contemporary romance, and the sparks, snarks, laughs, and dangers, all contributed to making this a story to remember. Gotta say, while I loved the last book (The Trouble with Mistletoe), I enjoyed this one even more!
~~~~~~~~~~~~~~~~~~~~~~~~~~~
About the author...
New York Times bestselling author Jill Shalvis lives in a small town in the Sierras full of quirky characters. Any resemblance to the quirky characters in her books is, um, mostly coincidental. Look for Jill's bestselling, award-winning books wherever romances are sold and visit her website, www.jillshalvis.com, for a complete book list and daily blog detailing her city-girl-living-in-the-mountains adventures.
~~~~~~~~~~~~~~~~~~~~~~~~~~~~
Special thanks to Julie at HarperCollins Publishers for the copy for review. (THANKS!) For more information on this title, the author, or the publisher, feel free to click through the links provided above. This title hit bookstore shelves the end of January via
Avon Books
, so be on the lookout for it at a retail outlet of your choosing.
Until next time, remember...if it looks good, READ IT!