Hi guys and gals!
Welcome back to Satisfaction for Insatiable Readers.
To all those celebrating, happy Memorial Day to you. As for me, I'm working...and still trying to beat whatever the heck I caught, but life moves on and so shall we. In that vein, today we're shining a bright sunny spotlight on a title hitting bookstore shelves TOMORROW via William Morrow Paperbacks. It's the PERFECT way to kick off your summer reading, enjoy a relaxing weekend, or simply find yourself in others just trying to make their way in life. If I've sparked your interest, then please, join me as we set a course for today's book of choice...
by
Shelley Noble
9780062675965
William Morrow Paperbacks
About the book...
From New York Times and USA Today bestselling author Shelley Noble comes a heartrending and uplifting novel about friendship, love, and what we're willing to sacrifice for our dreams.
What was supposed to be an idyllic wedding leads to an unexpected journey of self-discovery…
When Lillo Gray pulls up to Kennebunkport's most exclusive hotel wearing a borrowed dress and driving a borrowed VW van, she knows she's made a big mistake. She's not even sure why Jessica Parker invited her to her posh wedding. They haven't seen each other since they were unhappy fourteen-year-old girls at fat camp. And now they're from two completely different worlds. There's no way Lillo fits in the rarefied circles Jessica travels in.
Jess isn't sure she's ready to go through with this wedding, but she's been too busy making everyone else happy to think about what she wants. But when she and her two closest friends, Allie and Diana, along with Lillo, discover her fiancé with his pants down in the hotel parking lot, she's humiliated…and slightly relieved. In a rush to escape her crumbling life, Jess, Allie, and Diana pile into Lillo's beat-up old van and head up the coast to Lighthouse Island. Once there, she hopes to figure out the next chapter in her life.
Nursing broken hearts and broken dreams, four lost women embark on a journey to find their way back into happiness with new love, friendship, and the healing power of Lighthouse Beach.
~~~~~~~~~~~~~~~~~~~~~~~~~~~
What started out as the story of a runaway bride (with MORE than enough validation to have run away!), turns into a tale of four women repairing wounds they didn't know existed, and discovering the true selves they want to be. It's true...the Lighthouse Beach sign that is...your life won't ever be the same. Having "made the visit" this weekend, I can honestly say...I agree...and that's coming from someone who was in the throes of illness, so yeah, it was good!
Women's Fiction stories, or even Contemporary Romance novels for that matter, can be fickle creatures. More often they follow a formula of certain character types, storylines, issue parameters, and the eventual TADA, happily-ever-after moment....not so much here, but in the BEST way possible! I was never quite sure where the story was going to take us, and though I knew all the characters more deeply by story's end, it didn't make it any easier to predict...or say goodbye. (~tear~) Sound daunting? Ah, but it really wasn't...it was actually refreshing. It kept me on my toes in the most delicious way, and spiked my curiosity when things went left when I was anticipating right...and let's not forget about the laugh out loud moments because there are quite a few! Honestly, this group of gals, along with the whole of Lighthouse Beach really, were rather memorable.
From Jess, our runaway bride (that nerve of that a**hat...and the parents were no better!), to Diana, the powerhouse CEO (with a penchant for never accepting no for an answer), Allie, the quiet widower (dealing with her own internal struggles and second guessing) to Lillo, the tried and true (and too hard on herself and willing to stand up for those that need her!), Mac, the feisty lighthouse watcher (confidant, instigator, riffraff runner-offer...she wears MANY hats!) to Ian, the wounded warrior (internal can be harder to heal than external), and let us not forget Doc, aka Mr. Harley (a stubborn piece of work with a good heart)....there are so many souls worth a mention that I've merely crested the peak on the iceberg leaving all the secrets still below...with almost a paragraph of text. Whoopsie! I'll draw myself to a conclusion...
In short, it was a wonderful adventure filled with loss, laughs, and most importantly love...not necessarily of the romantic type, but of the kind that matters most; that which comes freely and is good for the soul. So make Lighthouse Beach a stop on your reading itinerary this summer...you won't regret a moment.
~~~~~~~~~~~~~~~~~~~~~~~~~~~~~
About the author...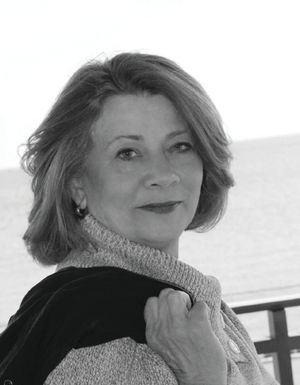 Photo by Gary Brown
Shelley Noble is a former professional dancer and choreographer and has worked on a number of films. She lives at the Jersey shore where she loves to visit lighthouses and vintage carousels. She is a member of Sisters in Crime, Mystery Writers of America, and Romance Writers of America.
~~~~~~~~~~~~~~~~~~~~~~~~~~~~~~
Special thanks to Libby at HarperCollins Publishers for the ARC for review. (THANKS!) For more information on this title, the author, or the publisher, feel free to click through the links provided above. This title celebrates it's BOOK BIRTHDAY tomorrow in "e" and "tree" formats, so mark your calendar or preorder your copy today!
Until next time, remember...if it looks good, READ IT!