Hi there!
Welcome back to Satisfaction for Insatiable Readers.
Today, we're shining the review spotlight on an ebook novella I recently had the pleasure of reading. It's BOOK 5 in the Mirabelle Harbor series written by one of my favorite authors, Marilyn Brant! Seriously, I know I'm fangirling here and all but, I really enjoy her writing, stories, characters, and the whole lot, so yeah...it's totally warranted...not to mention she is an absolute gem to chat with! So, if you haven't made her acquaintance in some way or another to date, I definitely suggest you change that, STAT. Anywho, getting back to the title at hand, it's time to direct that spotlight and your attention to today's ebook of choice...
Mirabelle Harbor series, Book 5
by
Twelfth Night Publishing
After her first marriage ended in a divorce that left her heart in tiny shreds, Sharlene Michaelsen Boyd vowed to keep her distance from men, at least emotionally. An occasional one-night stand wasn't out of the question, though, and with her closest friends hooking up with new loves, she finds herself in the mood for a little male company... Being the only sister with four brothers, not to mention the glue holding the Michaelsen family together after the death of their parents, Shar is used to being strong and in control. She's a junior high English teacher who's persuasive, personable, and who knows just about everyone in the center of Mirabelle Harbor society, including her brother Blake's super-sexy buddy, Declan Night.
As a former pro hockey player turned sportswriter and businessman, Dec has had his share of relationships, mostly meaningless, short-term flings. He always thought Blake's little sister was a hottie, but he knew she was off limits—until one Friday night when the stars aligned and the opportunity to hook up presented itself. Shar's intentions couldn't have been clearer: This was for One Night Only. But, for the first time in his life, Dec wonders if, maybe, there isn't something to be said for sticking with just one woman. Especially if that woman knows how to fulfill his every sensual fantasy.
Could one sizzling night turn into a love that has a shot at lasting forever?
~~~~~~~~~~~~~~~~~~~~~~~~~~~~~
Okay, so full disclosure as always....
...yeah, that.
It's not erotica or anything, but it is pretty steamy, so yeah...no kiddos. Capiche? Alrighty then, moving on to the good stuff...
In two words, LOVED IT!
In a few more words...
Shar and Dec WERE made for each other, if not from the start then definitely from experience. Yeah, Blake (older, protective brother) called it like he saw it and was right... though how, and why, you'll have to discover on your own. 😉
I really love how these strong personalities were able to make a non-commitment commitment at first, and then when the flames of love tried to burn through their defenses... well, let's just say they were equally prepared to put them out or let them burn. (Right now I've got this parody song of Let It Go, entitled Let It Burn totally traipsing through my head...he he.) The outside intrusions throughout their "weekend only" (*snort*) get together added humor as well as another depth of love because so many cared for and about them; something helpful to remember when they were bugging the snot out of them to find out what in the world was going on! It gave the story more depth, something a lot of novellas lack with the space/word count they are given, and though they often leave me wanting (and I would totally adore a longer novel to flesh out the story more and really get into the lives of these fab characters), I wasn't disappointed here in the least, nor do I think you will be.
So, in the end, if you're looking for a great add to your weekend, weeknight, or any other time reads, I highly recommend this one for ADULT contemporary romance fans (definitely some smexy times!). While it is part of a series and how often have you heard the "it can be read by itself" line, from experience...this one works perfectly well as a stand alone...but really, WHY would you want to leave it at that? Really, why?
~~~~~~~~~~~~~~~~~~~~~~~~~~~~~~~
About the author...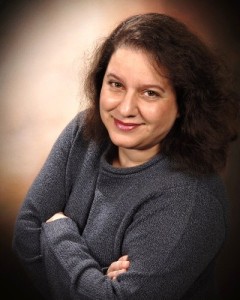 Photo Credit: Suzanne German
Marilyn Brant is a New York Times & USA Today bestselling author of contemporary women's fiction, romantic comedy & mystery. Her debut novel won RWA's prestigious Golden Heart® Award (2007), and she was named the Author of the Year (2013) by the Illinois Association of Teachers of English. She loves all things Jane Austen, has a passion for Sherlock Holmes, is a travel addict and a music junkie, and lives on chocolate and gelato.
Catch up with her online...
~~~~~~~~~~~~~~~~~~~~~~~~~~~~~~~
Special thanks to author
Marilyn Brant
for the ebook for review. (THANK YOU!) For more information on this title, the author, the series,
her other works
, or those forthcoming, feel free to click through the links provided above. This title is available now, so grab your copy today to start your romance with this series so you're good and ready for the next!
Until next time, remember...if it looks good, READ IT!