Hi guys!
Welcome back to Satisfaction for Insatiable Readers.
Today, we're playing host to a TLC Book Tour starring a Fiction title that reminds us we're only as close to those we love as we allow ourselves to be and secrets are never safe to build on. With that said, I invite you in to discover a title destined for many "to read" lists, and today's book of choice...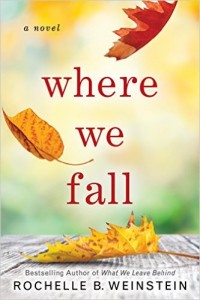 by
Rochelle B. Weinstein
9781612184432
Lake Union Publishing
About the book...
On the surface, Abby Holden has it all. She is the mother of a beautiful daughter and the wife of Ryan, a beloved high school football coach. Yet, depression has a vice grip on Abby and every day tugs a little harder on the loose threads of her marriage, threatening to unravel her charmed life. Meanwhile, Ryan is a charismatic, loyal husband who can coach the local high school football team to victory, but is powerless to lift his wife's depression, which has settled into their marriage like a deep fog. Although this isn't the life he's dreamed of, Ryan is determined to heal the rifts in his family. Lauren Sheppard was once Ryan's girlfriend and Abby's closest friend. Now a globe-trotting photographer who documents the power and beauty of waterfalls around the world, she returns back home to the mountains of North Carolina, where she must face the scene of a devastating heartbreak that forever changed the course of her life.
As college coeds, Abby, Ryan, and Lauren had an unbreakable bond. Now, for the first time in seventeen years, the once-inseparable friends find themselves confronting their past loves, hurts, and the rapid rush of a current that still pulls them together. With hypnotic, swift storytelling, Weinstein weaves in and out of Abby, Ryan, and Lauren's lives and imparts lessons of love, loyalty, friendship, and living with mental illness.
Ripe with emotional insight, WHERE WE FALL explores the depths of the human mind and a heart that sees what the eyes cannot. As Abby, Ryan, and Lauren struggle to repair their relationships and resolve their inner demons, they unflinchingly hold the mirror to the reader, reminding us not only of our own flaws, but also how beautiful and human those imperfections can be.

Purchase Links
~~~~~~~~~~~~~~~~~~~~~~~
This was not an easy story to read. Though a work of Fiction, you can easily see it unfolding in real life and that shadowy effect it has on the border between the two makes for a memorable read.
The story is told in four voices: Abby, Ryan, Julianna (their daughter), and Lauren. Abby is our main leading lady, though she didn't gain this role, but rather stole it. You see, once upon a time there were three friends. Two ended up in something MORE than friendship, something that was earth shattering, nerve quaking, and soul shaking. The third was still invited along, included in pretty much everything, but subconsciously, felt that label of "third wheel". It wasn't a label that she could acknowledge though because her psyche had given her a run for her money for most of her life and admitting her college crush would not be returned was outside any hard earned comfort zone. Add to this equation a long absence by choice, a familial passing, and a lack of communication to sustain what was into something that should be so glorious stories would be written about it (hey, I inadvertently made a funny! Inside joke for those that have read the book....), and the end result is a trail of broken hearts that don't even realize they need mending. The repercussions of such betrayals are felt soul deep for years to come until finally...they break the surface, refusing to be hidden any longer, and beg for acceptance into the light of day. Is it possible? Can something that was forged unnaturally, turn into something beautiful and unexpected?
The equation here, in case you're trying to discern it, is Lauren + Ryan = FOREVER... + Abby? Yeah. Abby is or rather was that third wheel and yet in light of all her actions, you can't help but feel sorry for her. Admittedly, she's not an easy person to like and a few times I wanted to write her off myself, but the author wouldn't let us forget the demons she faced in her own heart and mind, the challenges she already faced, and those yet to come. She helped us accept Abby for who she was and in turn, watch as she grew into the person she was meant to be. It was heartbreaking and beautiful all at once. Ryan was the epitome of the GOOD GUY. Ladies, if you're looking for a bad boy, this ain't him, but the loyalty her shows, the heart he shares with blood and his team, the morals he counts on to bring him through these dark times, all add up to someone you wouldn't want to miss. It's easy to see how Abby fixated on him, and oh-so-hard to admit that despite all those incredible qualities, and acts of compassion, he's still human....he still made his own share of mistakes. Speaking of which, the same can definitely be said about Lauren. I'm sorry. I understand what happened to her but to not do anything and pine away for that person for so very many years without any contact, seems as foolish the choices that were made (willingly or not) in her absence. No one made her go any of the times she left, but she did what she had to do...as did they all.
In the end, it's a story that reminds us to live life as honestly as we can each and every day; that way should our closets be laid bare, we won't have to worry about any skeletons hanging about. As the journey was reaching its end, I admit...I wasn't certain exactly "where we [would] fall", but I knew it would be someplace with rampant beauty, reflecting the fullness of a heart that's spoken, and in the arms of those that have seen love. What more could you ask for? Recommended read for older teens through adults.
~~~~~~~~~~~~~~~~~~~~~~~~
About the author...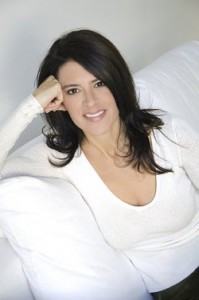 Born and raised in Miami, Florida, Rochelle B. Weinstein followed her love of the written word across the country. She moved north to attend the University of Maryland, earning a degree in journalism, and began her career in Los Angeles at the LA Weekly. After moving back to Miami, she enjoyed a stint in the entertainment industry, marrying her love of music with all things creative. When her twins arrived, she sat down one afternoon while they were napping and began to write. The resulting novel, the highly acclaimed What We Leave Behind, explores the poignancy of love and the human condition. Her second book, The Mourning After, is a moving story of hope and resiliency.
~~~~~~~~~~~~~~~~~~~~~~~~~~
Special thanks to
Lisa
at
TLC Book Tours
for the copy for review and chance to bring this tour to you. (THANKS!) For more information on this title, the author, the publisher,
THIS TOUR
, or
those on the horizon
, feel free to click through the links provided above. This title is available now via Lake Union Publishing, so be on the lookout for it on a bookstore shelf or virtual retailer of your choosing.
BEFORE YOU GO...
HERE's YOUR CHANCE TO WIN A COPY OF THIS BOOK TO CALL YOUR OWN! JUST FILL IN THE RAFFLECOPTER FORM BELOW FOR YOUR CHANCE TO WIN.
*Open to US residents only; no P.O. Boxes please.
*Entries accepted through 05/20/16.
*Winner will have 48 hours to respond to email request for mailing information; if not received in the time frame, a new winner may be chosen.
*SFIR is not responsible for lost prizes.
Until next time...happy reading!