Hi there!
Welcome back to Satisfaction for Insatiable Readers.
Today, we're welcoming Random House Children's Books for a stop along their current tour starring that lovable duo, Nancy and Douglas. You made their acquaintance in Douglas, You Need Glasses! (SUCH a cute book!), and this time they're back with another FUN adventure all about making friends, being inventive, and even a bit of unexpected edutainment! So, if you're ready, let's get this show on the road as we welcome today's book of choice....
by
Ged Adamson
9781524765309
Schwartz & Wade
About the book...
Pals Nancy and Douglas think their baseball game is over after their ball rolls through a hole in the fence. But when the ball rolls back, followed by a note in an unfamiliar language, they have to discover who's on the other side of the fence. And so in a series of truly outrageous–and hilarious–stunts, Nancy tries to launch, vault, and fly Douglas over to the other side to see what's what. Finally, after all Nancy's plans fail, Douglas gets his turn to execute a plan–and it works! And who do they find? New friends who speak Spanish. Readers will laugh out loud at the antics in this zany picture book, which proves that working together makes everything more fun.
~~~~~~~~~~~~~~~~~~~~~~~~~
It's true, really; all that they said above.
We get to play ball with Nancy and Douglas, see them struggle with just how to get their lost ball back, and then deal with a whole new set of questions as they try to figure out how to get to the other side. Maybe they should ask the chicken? Ha! Just kidding... Both are creative, and both have ideas on just how they should find out who is on the other side of the fence. The thing is...while Nancy's are totally inventive and look like a lot of fun, Douglas' just has a little more practicality when it all comes down to it. Not to worry, it's not a contest, just a solution fest between friends, so the help is appreciated...and the results are spectacular!
I loved how the author worked a similar angle on the other side of the fence, showing that is it just a small world after all. The inclusion of blueprints explaining their ideas really put you in the inventor's seat as their plans were carried out...though wee ones may be asking to try a few themselves! Hey, it could be fun...with a responsible adult supervising, of course. Then there's the impromptu language lesson, and I'm telling you, it was unexpected, but totally welcome, once again showing how friendship, and kindness can bridge any gap.
Definitely a must read for Douglas fans, but also for any kiddo that's wondered just what (or who!) was on the other side...
~~~~~~~~~~~~~~~~~~~~~~~~~~~~~~~
About the author...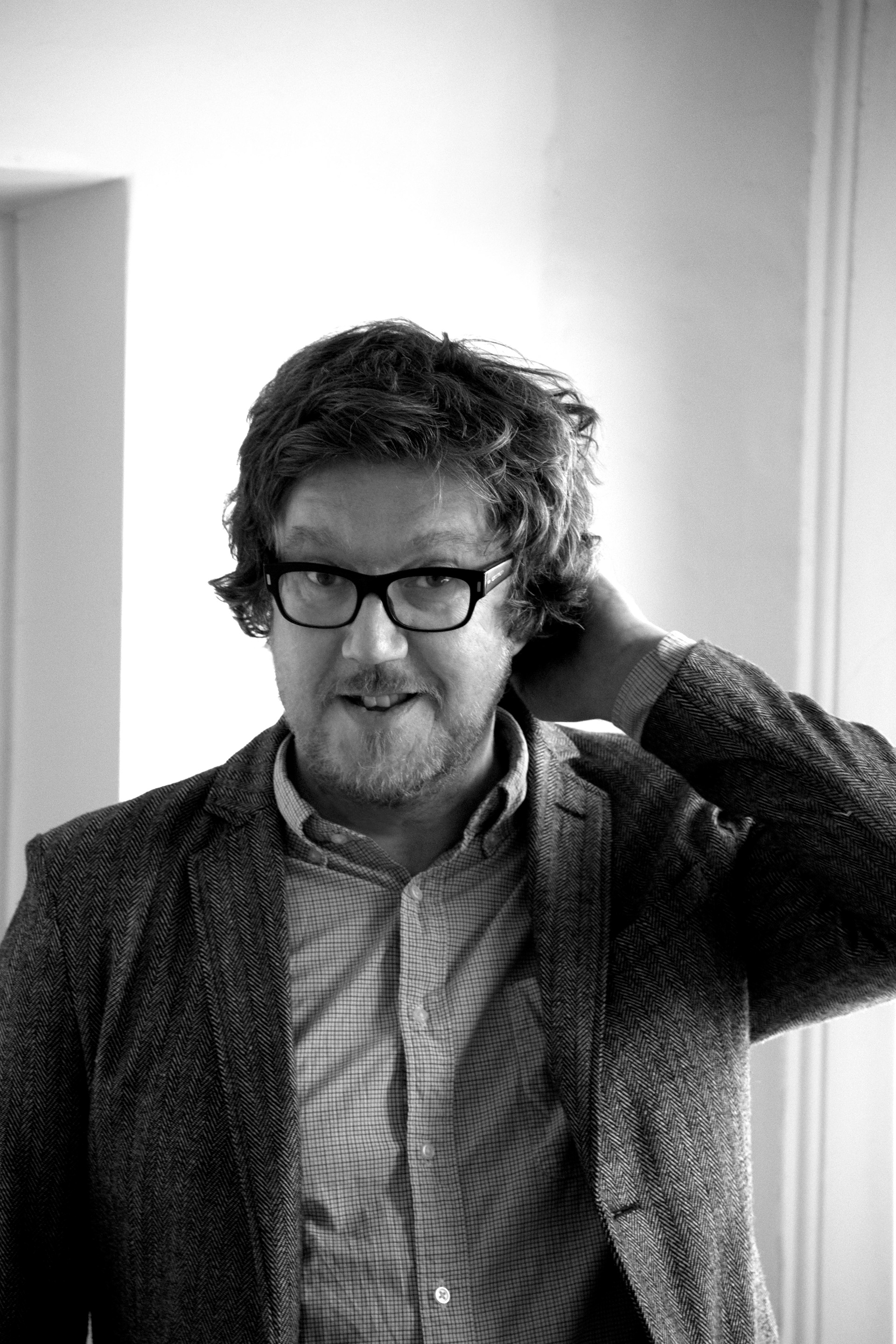 GED ADAMSON
is the author and illustrator of
Douglas, You Need Glasses!;I Want to Grow
;
Shark Dog!
, and most recently,
Douglas, You're a Genius!
He has worked as a cartoonist, a storyboard artist, and a music composer. It was always his ambition to write and illustrate picture books. Ged lives in London with his family. Learn more at
gedadamson.com
and follow him on Twitter at
@ged_adamson
.
~~~~~~~~~~~~~~~~~~~~~~~~~~~~
Special thanks to Sydney at Random House Children's Books for the chance to bring this tour to you as well as the copy for review. (THANKS!) For more information on this title, the author, or the publisher, feel free to click through the links provided above. This title is available now via Schwartz & Wade, an imprint of Random House Children's Books, so be on the lookout for it on a bookstore shelf or virtual retailer of your choosing.
Until next time, remember...if it looks good, READ IT!