Hi there!
Welcome back to Satisfaction for Insatiable Readers.
Today, we're a bit BOOKED (pun totally intended), as we take on not ONE but TWO tours with two rather fabulous groups, if I do say so myself, and I totally do! This stop brings TLC Book Tours to my virtual book bloggy door and we're throwing it wide open to welcome today's fabulously appropriate seasonal(ish) read IN STORES NOW via William Morrow Paperbacks...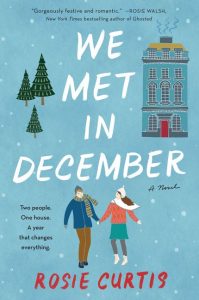 by
Rosie Curtis
Paperback: 400 pages
William Morrow Paperbacks
Release Date: November 5, 2019

About the book...
Following a year in the life of a twenty-something British woman who falls hard for her London flat mate, this clever, fun, and unforgettable romantic comedy is the perfect feel-good holiday read.
Two people.
One house.
A year that changes everything.
Twenty-nine-year-old Jess is following her dream and moving to London. It's December, and she's taking a room in a crumbling, but grand, Notting Hill house-share with four virtual strangers. On her first night, Jess meets Alex, the guy sharing her floor, at a Christmas dinner hosted by her landlord. They don't kiss, but as far as Jess is concerned the connection is clear. She starts planning how they will knock down the wall between them to spend more time together. But when Jess returns from a two-week Christmas holiday, she finds Alex has started dating someone else—beautiful Emma, who lives on the floor above them. Now Jess faces a year of bumping into (hell, sharing a bathroom with) the man of her dreams…and the woman of his.
~~~~~~~~~~~~~~~~~~~~~~~~~~~~~~~~~~~
Oh if the course of love/life ever DID run smooth...
...I'd think I was Freaky Friday'd into someone else's life...
...and I think our leading lady gets me on that!
From the moment we meet Jess, I knew we were going to be besties. I mean, she's this great combination of overly serious (regarding her own personal choices and reactions) and sweet that you really just can't help yourself....you love her and you're rooting for her from the start. The fact that her LIFE life and LOVE life are getting just a tad more complicated only makes you feel for her more because honestly, can anyone say they haven't fallen for the wrong guy/girl at the wrong time? Exactly....she's human, relateable, and when she's not pining or wallowing in her personal pools of guilt (well, actually even then), she's a great soul to be around.
All in all, it was a new(ish) take on a Contemporary Romance for my reading journey, but alls well that ends well in love and reading, right? There are moments to laugh at, times to cringe at the audacity of life, and things to unexpectedly celebrate with good friends. Seriously guys, sign yourself up for a grand reading holiday and check this one out!
~~~~~~~~~~~~~~~~~~~~~~~~~~~~~~~~~~~
About the author...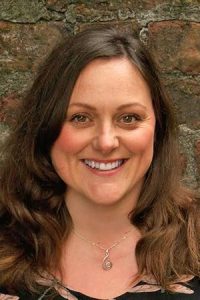 Rosie Curtis was born in the Highlands of Scotland, and now lives with her family in a 150 year old house by the sea in the north west of England. She loves travel, happy ever after stories, and daydreaming. Her favourite book character is a toss up between Anne Shirley and Jo March. Rosie also writes adult and teen fiction as Rachael Lucas.
~~~~~~~~~~~~~~~~~~~~~~~~~~~~~~~
Special thanks to
Trish
at
TLC Book Tours
for the chance to bring this tour to you as well as the copy for review. (THANKS!) For more information on this title, the author, the publisher, this tour, or
those on the horizon
, feel free to click through the links provided above. This title just celebrated its book birthday the end of last month, so be on the lookout for it on a bookstore shelf or virtual retailer of your choosing. Be sure to check out
the rest of the tour
for more bookish fun!
Until next time, remember...if it looks good, READ IT!