Hi there!
Welcome back to Satisfaction for Insatiable Readers.

Today, we're shining a light on a SOON TO BE RELEASED title coming THIS TUESDAY via Chronicle Books! It's slated as a "meet cute" for the wee ones as it parades its Picture Book format around the forest and through the town on a bicycle built for...well, you'll see. Anywho, let's send March out with a flurry of pages as we set our sights on April and today's PRE BOOK BIRTHDAY BUZZ title of choice...
by
Carter Higgins
Illustrated by
Zachariah OHora
Maurice rides his bike to his shop every day. Lotta rides her bike to collect sticks every day. Both go about their separate routines, unaware of the friendship that awaits them just a few blocks away. But what happens when a branch and a lemon peel get in the way? This delightful falling-in-like story from acclaimed picture book creators Carter Higgins and Zachariah OHora celebrates the power of coincidence to lead us to the friends we're meant to meet all along.
~~~~~~~~~~~~~~~~~~~~~~~~~~~~
Maurice and Lotta's lives were turned topsy turvy when their usual routes had unexpected forks (or rather sticks and lemons) thrown in the road, and while they were sad for themselves, they were equally down in the mouth for the friendly creatures they brought their wares to. Goes to show you that they were selfless, good hearted critters, intent on bringing joy to the masses, right? Right! Until one day an accident throws them a curveball they weren't prepared for...what DO you do when your mode of transportation, your means to a meaningful day's work is taken from you? You try another angle and get the job done...but it certainly helps to have a friend along for the ride.
Initially, I wasn't enamored...though I think it was the abstract way the story unfolded and the color palette utilized that did it for me; in hindsight, it had it's own cute factor. It tells of an unlikely friendship developing from an unfortunate meeting thanks to chance, circumstance, and the particularly awesome skills of one bicycle shop owner. Both Maurice and Lotta are dedicated to their chosen crafts and when those are put on pause, it obviously saddens their hearts. When they discover their beloved bicycles, thought lost forever, were given a new life...they take it in stride and push the pedal forward on a new adventure with smile on their faces and some pep in their step...err, push.
~~~~~~~~~~~~~~~~~~~~~~~~~~~~
About the author and illustrator...
Carter Higgins is an elementary school librarian and the author of Everything You Need for a Treehouse and This Is Not a Valentine. She lives in Los Angeles, California.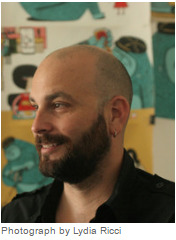 Zachariah OHora is the illustrator of the New York Times bestseller Wolfie the Bunny, among many other beloved books for kids. He lives and works in Narberth, Pennsylvania.



~~~~~~~~~~~~~~~~~~~~~~~~~~~~
Special thanks to the
Chronicle Books
team for the copy for review. (THANKS!) For more information on this title, the author, the illustrator, or the
publisher
, feel free to click through the links provided above. This title is set to celebrate its BOOK BIRTHDAY Tuesday, April 2nd, 2019 (as of this post) via Chronicle Books, so mark your calendar or pre order your copy today!
Until next time, remember...if it looks good, READ IT!