Hi there!
Welcome back to Satisfaction for Insatiable Readers.
Today, we're joining the bloggy celebration for a NEW RELEASE title IN STORES NOW via Random House Children's Books. It's a storybook that jumps on board the here-and-now-instant-classic-with-a-slightly-profane-title train (you know the one), so to speak, and gives it a kid friendly, seasonal makeover perfect for the upcoming months of SPOOKY reading. I mean really, HOW many times can you read the SAME OLD STORY without it loosing just a smidge of pizzazz? Okay, well maybe not, but an update never hurt anyone, and options are our friend, so I say WELCOME to this monstrous little book just brimming with bedtime fun and so should you as we say HELLO to today's book of choice...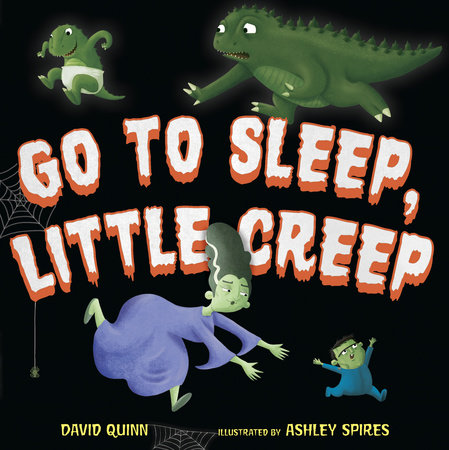 by
David Quinn
Illustrated by
Ashley Spires
9781101939444
Crown Books for Young Readers
This charming little story takes us on a journey from dawn til dusk as the creatures of the night prepare to snuggle in for bedtime. Well okay, so not ALL of them snuggle down exactly....some hang upside down, others curl up under bridges, and still others cozy down by their favorite tombstones, but sleep they must in order to be ready for the coming night! With full color illustrations throughout, we get to see first hand the ruckus that ensues when wee ones are simply not quite ready for dreamland. Whether it be the needed favorite blanket, the requirement of a last minute treat, the time to topple another city, or even a few moments to rub-a-dub-dub away the lingering scent of the day, kiddos and adults will delight in how they can relate to just what these little creepsters and their parents go through at the end of their busy nights.
My favorite? It's gotta be the mummy family...the sweet baby needing another cuddle, the slightly stressed Mommy mummy being ever attentive, and that adorable kitty doing a little clean up of its own! I was definitely smitten, but really, there's not a one in this gathering that you can't be charmed by and I'm certain every family will have a favorite to call their own. From the vampires to bigfoot, ghosts to werewolves, there's a little something for everyone!
In short, it's an adorable read for the season or anytime really, after all...bedtime happens every night, and who's to say when monsters must have their day? Recommended for kiddos of all ages for both the wonderful illustrations as well as the charming prose.
~~~~~~~~~~~~~~~~~~~~~~~~~~~~~
Special thanks to Emily at
Random House Children's Books
for the chance to bring this tour to you as well as the copy for review. (THANKS!) For more information on this title, the author, the illustrator, or the publisher, feel free to click through the links provided above. This title just celebrated its book birthday Tuesday, July 24th, 2018, via Crown Books for Young Readers, so be on the lookout for it on a bookstore shelf or virtual retailer of your choosing.
Until next time, remember...if it looks good, READ IT!