Hi there!
Welcome back to Satisfaction for Insatiable Readers.
Today, we're joining a Random House Children's Books blog tour, already in progress, celebrating the latest release from author Cath Crowley. It's a Young Adult title that I have no problem placing in the same category as one of my favorite favorites, Dash & Lily's Book of Dares. Perhaps you've heard of it, read it, or joined me in shouting from the rooftops about it? If not, what ARE you waiting for! If so, GREAT! Here's another to add to your shout from the rooftop list. Ready or not, here comes today's book of choice...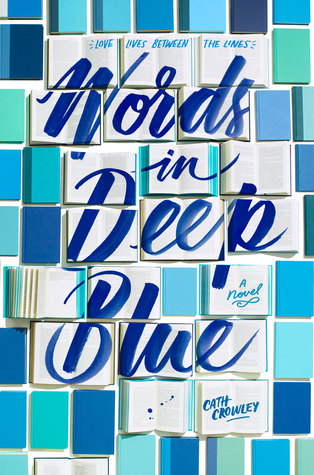 by
Cath Crowley
9781101937648
Alfred A. Knopf
Love lives between the lines.

Years ago, Rachel had a crush on Henry Jones. The day before she moved away, she tucked a love letter into his favorite book in his family's bookshop. She waited. But Henry never came.

Now Rachel has returned to the city—and to the bookshop—to work alongside the boy she'd rather not see, if at all possible, for the rest of her life. But Rachel needs the distraction, and the escape. Her brother drowned months ago, and she can't feel anything anymore. She can't see her future.

Henry's future isn't looking too promising, either. His girlfriend dumped him. The bookstore is slipping away. And his family is breaking apart.

As Henry and Rachel work side by side—surrounded by books, watching love stories unfold, exchanging letters between the pages—they find hope in each other. Because life may be uncontrollable, even unbearable sometimes. But it's possible that words, and love, and second chances are enough.
~~~~~~~~~~~~~~~~~~~~~~~~~~~
If you follow me on GoodReads, you know I generally update my reading status on the regular for whatever title I might be reading. This one, I quite literally couldn't update my feed as I was too busy falling in love with the story's of Henry, Rachel, Lola, Cal, George, Martin, Michael, Sophie, and so many more. If you're a fan of DASH & LILY, you're gonna LOVE this equally heart warming and heart wrenching read of life after loss, in all its forms, and the true joy we find in books.
Son: "... secondhand books will be relics eventually..."
Dad: "...Do you know what the word relic actually means..."
Dad: "...It means 'sacred'....As in the bones of the saints..."
(pg 60)
There were so many times I found myself nodding in agreement to a thought shared (see above), smiling at the sentiment behind some emotional realization, or even simply wanting to share a particular section of the book, just for a moment, with a kindred soul. There's
this achingly beautiful passage
(< - CLICK THE LINK to read it on my Twitter feed) near the end of the book that will really grab your bookish soul and drag you in without complaint, content to spend your days within its lines.
The author created a world within the pages that is easy to relate to with characters you'd like to call friend, others you'll wish you never met (hey, people don't stick people to lampposts...naked...in the middle of nowhere...and get to be called "friend" in my book), and multiple story lines that, by book's end, all find themselves connected in some fashion. I loved how we had the back and forth chapters between Rachel and Henry interspaced with shares from the Letter Library (something you ABSOLUTELY have to read about! SO AMAZING!), as well as the correspondence between George and her mystery beau (~tear~). It kept things fresh, not jumbled, and gave us such an incredible look at what the LL truly was to those that chose to follow its tradition. (~sigh~) Speaking of which, keep an eye on the pages for a SPECIAL entry from a name you might know...
(THE AUTHOR! LOVED IT!)
In the end, it's as much about life, as much about love, as much about growing up, out, apart, and back together, as it is a celebration of books, reading, and the parts of us we leave behind no matter where our journey takes us. It's equally beautiful AND sad, wistful AND joyous, tow-the-line AND rebellious, making no excuses for itself, just as it should be. It reminds us that nothing in life is absolute and every day, every moment, should be treated as the precious thing that it is...and that books are not only an adventure for the mind, but a window to the soul, our own as well as that of others. What will you find in life today? Who will you discover in the pages of your next read? Only one way to find out...
~~~~~~~~~~~~~~~~~~~~~~~~~~~
About the author...
CATH CROWLEY
is an award-winning author of young adult novels, including Graffiti Moon and A Little Wanting Song. She lives, writes, and teaches creative writing in Melbourne, Australia. Visit her online at
CathCrowley.com.au
or find her on Twitter at
@CathCrowley
~~~~~~~~~~~~~~~~~~~~~~~~~~~~~~
Special thanks to Allison at
Random House Children's Books
for the ARC for review as well as the chance to bring this tour to you. (THANKS!) For more information on this title, the author, or the publisher, feel free to click through the links provided above. This title celebrated its BOOK BIRTHDAY June 6, 2017 via Alfred A. Knopf, an imprint of RHCB, so be on the lookout for it on a bookstore shelf or virtual retailer of your choosing.
Until next time, remember...if it looks good, READ IT!