Season's greetings...
...and welcome back to Satisfaction for Insatiable Readers!
It's time for POST TWO of the TWELVE DAYS OF BOOKMAS.
What IS Bookmas, you ask?
Great question!
Bookmas is similar to Christmas, except it brings tidings of great reads, holiday gifting suggestions, and just about all the bookish fun you can imagine from across the genre spectrum. It's all in one place at one time (sorta) and ready to help you get out from under the yuletide stress, and get back to enjoying the season...one page at a time.
Just why is it the "Twelve Posts" and not the twelve books? Simple...I have WAY TOO MANY titles for you to consider, peruse, and read all about to limit it to twelve titles. These posts are intended to highlight some great titles, give you ideas for your gifting this year, and help me clear up my "read-it-but-need-to-review-it" teetering stack. Triple focus...yes siree! So, ready or not, let's get this sled on the road as we unwrap today's featured titles....
Cracking the Code for an Epic Life
by
Bryan R. Johnson
A short but sweet collection showcasing the life and times of several youngsters striving to be the change they wish to see in the world...they just don't know it yet. From well-intentioned money-making schemes gone wrong to artistic challenges grown larger than life, and a little bit of everything in between, these kiddos remind us that taking the easy way out has its own set of consequences, and that the big picture really and truly is bigger than us all. While imparting their messages to us, they also learn the power of many versus one to solve a problem, to be selfless with their time to reap the best rewards, and to never back down from a challenge because without those willing to fight the good fight, nothing would ever change.
An inspiring pick for readers of all ages.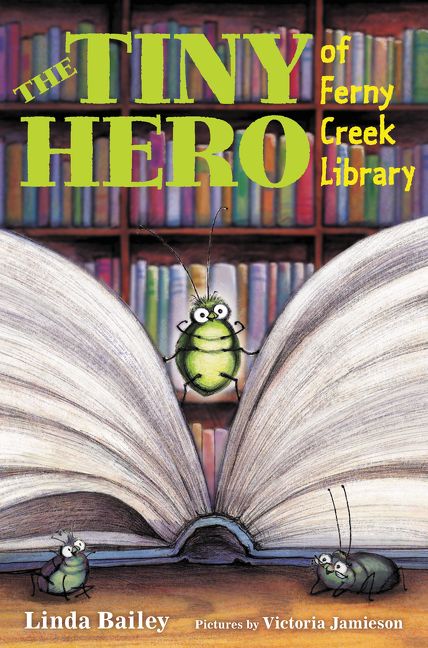 by
Linda Bailey
Illustrated by
Victoria Jamieson
How can you NOT love a book reading/writing little bug out to save the school library? Exactly. Eddie is a bug living the life, or rather trying to rescue Aunt Min, stop his bitty buggy brother from being squished, and experience the wonders of the library before its too late. The new librarian, if one could even call her that, is nothing short of an enemy of the written word. Good thing there's a ghost of a chance of putting her in her place before it's too late. I mean, who else would the mysterious stickies have been left/written by? Certainly not anyone so small and easy to overlook as a bright green little bug with a penchant for the classics....certainly not indeed.

A great reminder that "a person's a person, no matter how small"...well said, Stuart Little...and very applicable here as we see the might and power of one teeny tiny voice against the forces that be.
by
Emily Jenkins
Illustrated by
Rohan Daniel Eason
9780763665586
Candlewick Press
A collection of tales we know and love through new eyes...and with the interconnecting piece added, it certainly makes you wonder why ANYONE would EVER venture into or near a frozen forest at ANY time. Seriously...NOTHING GOOD EVER HAPPENS THERE...well, for the most part anyway. Think about it...Snow White meeting her untimely end (temporarily)...a prince being cursed to life as an amphibian...a woodcutter turning his wife's nose into a sausage...need I go on?
A great pick for Children's Fiction fans of the middle grade set and beyond...the beyond will especially enjoy the frankness in the telling of the stories as well as the snark that is imparted.
Special thanks to Candy Wrapper Inc, Greenwillow Books, Candlewick Press, and
FSB Associates
for the copies for review. (THANKS!) For more information on these titles, the authors, or the publishers, feel free to click through the links provided above. Be sure to check back for the next BOOKMAS post tomorrow for more bookish fun!
Happy holidays and happy reading!