Hi guys and gals!
Welcome back to Satisfaction for Insatiable Readers.
No, you're not experiencing deja vu. This is post numero dos for the day and it's all about the spotlight, or rather the title IN the spotlight. It's a title that hit bookstore shelves a few months back and stars the latest release from an author who made her Disney Channel Original Movie debut this past October (
The Swap
...check out the
trailer
here!). Sweet, right? Oh, it gets better. Whereas the prior book was a
Freaky Friday
sort of exchange except with a boy and a girl switching bodies...
awkward
...this new work sees us swapping FAMILIES. Hmm, I wonder how THAT turns out? Oh come on, don't tell me you never wondered what it'd be like?! Without further ado, today's spotlight title...
by
Megan Shull
Katherine Tegen Books
About the book...
The author of The Swap, which is now a Disney Channel Original Movie, delivers another hilarious, heartwarming, and empowering story about a girl who relives the same day over and over again—each time as someone new. Megan Shull's new novel is perfect for fans of Wendy Mass, Holly Goldberg Sloan, and Meg Cabot.
Seventh grader Frannie Hudson wonders what it would be like to trade in her family for a new one. Her big brother ignores her. Her mean older sister can't stand her. And her parents have just announced they're going on a last-minute vacation—without her.
When Frannie makes one desperate, crazy wish—BOOM!—she magically bounces into a whole new life, with a totally different family. And. It. Is. Amazing! There's only one catch: waking up as someone else keeps happening. Plunged into lives and adventures she's only imagined—from being a pop star to meeting one super-cute boy—Frannie finds courage in the unforgettable friends and families she meets along the way. But as her new life spins out of control, Frannie begins to worry if she'll ever get back home.
A celebration of the power of love and connection, Megan Shull's extraordinary new novel captures one girl's journey to find her voice, heal her heart, and discover the joy of bouncing back
~~~~~~~~~~~~~~~~~~~~~~~~~~
About the author...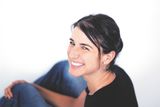 From publisher's website
Megan Shull is the award-winning author of five books for kids, including
The Swap
, now a Disney Channel Original Movie. Megan holds a doctorate in educational psychology from Cornell University, where she also earned her undergraduate degree. Born and raised in Ithaca, New York, Megan lives and writes in her hometown—a small college town surrounded by waterfalls, quiet, rolling hills, and secret swimming holes.
~~~~~~~~~~~~~~~~~~~~~~~~~~~~~
Special thanks to Stephanie at
HarperCollins Children's Books
for the chance to bring this spotlight to you. (THANKS!) For more information on this title, the author, or the publisher, feel free to click through the links provided above. This title is available now via
Katherine Tegen Books
, an imprint of HarperCollins Children's Books, so be on the lookout for it on a bookstore shelf or virtual retailer of your choosing for a great addition under the tree!
Until next time, remember...if it looks good, READ IT!