Hi guys and gals!
Welcome back to Satisfaction for Insatiable Readers.
Today, we're diving between the pages of a new Middle Grade series that's ready to take children's lit fan by storm...especially those in the Wimpy and MacKenzie fan clubs. So, if you're ready to take a chance on an artsy little dude with a mission, make way for today's book of choice....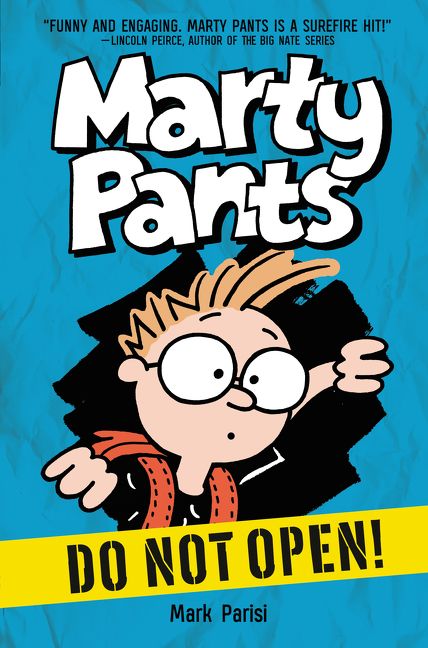 Book 1
by
Mark Parisi
9780062427762
Harper
About the book...
Marty Pants is different from your typical middle schooler. He has the soul of an artist, and as an artist, he notices things—the kinds of things other kids don't seem to see.
So when Marty discovers a plot on his teacher's computer to take over the world, Marty knows this is a danger he can't just ignore. But no one, not his best friends Parker and Roongrat or his mother, father, sister, arch-enemy, Simon, or Chief of Police Pickels, believes him.
So, it's up to Marty to save the world—his way.
This hilarious new series follows the endearing, frazzled, embarrassed, and, ultimately, fearless footsteps of literature's most unlikely hero—Marty Pants.
~~~~~~~~~~~~~~~~~~~~~~~~~~~~~~
Okay, so what's the first thing you do when you see something marked DO NOT OPEN? Right, turn around and walk away...said no one ever. If you're a precocious young man who has aliens on the brain, you might decide to act in a different direction...
Meet Marty Pants! Middle schooler extraordinaire, artist-in-the-making, gifted sister annoy-er, talented embarrass-er of oneself in front of his crush...and now, alien hunter. Oh, he doesn't aim to harm them exactly, only stop them from annihilating Earth because although he may not always have the best of days, friends, or grades, he still loves this old planet we call home. Good kid...but he's gonna need more than good intentions to expose the out-of-this-world visitor behind it all before it's too late! Good luck, Marty Pants! We're all counting on you...
Now, for my view of the story...if wasn't my cup of tea, and considering it's not aimed at my particular age group, that would make a lot of sense...if I didn't read a broad range of titles/authors/genres. HOWEVER, regardless of my inclination to pick up the title, I DID find myself compulsively reading it straight through to the end (after all, we have to see who sent the message, what it means, and WHAT IS IN THE FOLDER?!) and wouldn't you know it, it held merit. The styling (think Wimpy Kid) serves to introduce readers stepping up a level to a longer story format without overwhelming them. The story injects enough imagination into reality so readers can find a kinship with the leading man while still exploring an out of this world idea. The ending...well, I won't spoil it for you, but let's just say that Marty may rhyme with "smarty" but may not be as inclined to see the forest for the trees (surprise twist...for him at least!).
So, in the end, the sum of all its parts may not have struck close to home for this reader, but I can easily see it becoming a fast favorite for young boys (even reluctant readers) looking for a lighter read to capture their imagination...and maybe even encourage them to pursue creative career paths of their own. (Go writers and illustrators!)
~~~~~~~~~~~~~~~~~~~~~~~~~~~~~
Special thanks to
Laura
at HarperCollins Publishers for the copy for review. (THANKS!) For more information on this title, the author, or the publisher, feel free to click through the links provided above. This title just celebrated its book birthday this week via Harper, an imprint of HarperCollins Publishing, so be on the lookout for it on a bookstore shelf or virtual retailer of your choosing.
Until next time, remember...if it looks good, READ IT!