Howdy folks!
Welcome back to Satisfaction for Insatiable Readers.
I guess I have to stop saying a certain phrase when it comes to Contemporary Romance novels. You know the one. Oh, come on. I must have said it like a THOUSAND times (or more) throughout my reading/blogging years. Alright, alright...one last time for good measure. *ahem*....
...I don't read cowboy books...
...because now, in certain circumstances, it appears that I DO!
Now don't go getting your hopes up, the ten gallon hat, poo-kicking boots, and blinding belt buckles still don't do a thing for me, but the way their characters are written beyond the crazy getup and gear...well, I can't say I'm not fond of it... 😉 ... and this story REALLY gives the old stereotype a run for its money. Ready or not, her comes today's book of choice...
Cupid, Texas, Book 6
by
Lori Wilde
9780062468260
Avon Books
About the book...
Return to New York Times Bestselling Author Lori Wilde's beloved town of Cupid, Texas, where wedding fever is in the air . . . and two best friends discover that sometimes the perfect match is standing right in front of you . . .

Ember Alzate is a fantastic matchmaker with one big problem: she can't find the perfect mate for herself! Alzate family legend says that when she kisses "the One" she'll hear a mysterious humming in her head. Well, Ember's kissed a lot of guys and she's never heard a thing. Now, instead of searching for herself, she vows to find her best friend, Ranger Lockhart, a bride. It's clear this smart, sexy man just needs to meet the right gal.

Ranger's returned home to Cupid with marriage on his mind, but he's not interested in the parade of women Ember pushes under his nose. His thoughts keep returning to his best friend—with her combustible combination of curves and sass. No one compares to Ember, but what's it going to take to convince her she's the woman for him?
~~~~~~~~~~~~~~~~~~~~~~~
For those of you that know me, or at least have gotten to know me virtually over the years, you'll know this doesn't look like my normal fare. Honestly, if I saw the title on the shelf or just the cover (not that he's hard on the eyes), I never would have picked it up. Scouts honor. HOWEVER, having read the description, THEN been "exposed" to the rest, it made the "give it a try" feeling in my gut that much easier to go with...and boy am I glad I did! I actually read this one back at the beginning of February (LOVE me some ARC goodness!), but didn't want to spill the beans on it TOO early because I know there's nothing more frustrating than waiting on your next great read. I mean, nothing. 😉 Despite the time that has passed, I still remember it like it was only yesterday. I was taken in my the description, taken aback by the cover, starting flicking epages, and there was no turning back.
For your information, the "gentleman" on the cover is actually our leading man, Ranger Lockhart, and despite his wrangler heartthrob-iness appearance, he's actually a science geek. Yup. Smart AND sexy...oh, boy. Anyone in the market for their next book boyfriend because he's got "the one" written all over him! Our leading lady Ember Alzate isn't anything to balk at either, and when you combine her beauty with her charm, well it's clear she has more than just a way with words, but she uses it for good, ladies, not evil! The combination of these two is powerful, if they'll only get out of their own way, that is. Their shared history laid the foundation (friends to something more story line...LOVE IT!), the wrong-time-wrong-place obstacles still lingering are being worked on, and in the end, I think we'll all be happy with the results.
I adored our leads and their winsome banter. Ember's plan for making love connections in her small town were inspired, though I do believe her own "love is blind" (or rather some are BLIND to LOVE) scenario may have been part of the sudden pitfalls. When I saw what our naughty professor was doing about halfway through, I could hardly believe he had it in him to pull it off...yet when one sets their mind to something, anything is possible. (That's not as risqué as it sounds, read it and see...) Watching everything fall into place only to explode when you least expected it was a great reminder to cherish the moment and live for today because tomorrow is a present that's never guaranteed. Oh, but seriously, the one part where Ember was being scolded for her ways...
"...Shh, girls shouldn't be so loud.
Don't be so bossy.
If you want boys to like you, let them win..."
Yeah...no.
Suffice it to say, I believe this one to be a MUST READ for Contemporary Romance fans, and a genuine example of not judging a book by its drool-some cover. Oh come on, you know you were! Though it was my first visit to Cupid, Texas, I don't plan on it being my last, so you may be seeing my explorations of the backlist titles in coming posts. One never knows with us bookworms, we're savvy like that.
~~~~~~~~~~~~~~~~~~~~~~~~~
About the author...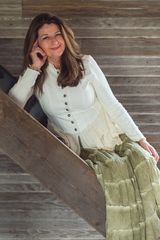 Photo by Tamara Burros
New York Times and USA Today bestselling author Lori Wilde has sold seventy-nine works of fiction to four major New York publishing houses. She holds a bachelor's degree in nursing from Texas Christian University and a certificate in forensic nursing from Kaplan University. She is a member of the International Association of Forensic Nurses.
Her first New York Times bestseller, the third book in her Twilight, Texas series, The First Love Cookie Club, has been optioned for a television movie. The town of Granbury, Texas, upon which her fictional town of Twilight, Texas, is loosely based, honors Lori with an annual Twilight, Texas weekend each Christmas.
~~~~~~~~~~~~~~~~~~~~~~~~~~
Special thanks to the Avon Books team for the ebook for review. (THANKS!) For more information on this title, the author, the series, or the publisher, feel free to click through the links provided above. This title is set to hit bookstore and virtual shelves TOMORROW (03/27/18), so mark your calendar or pre order your copy today!
Until next time, remember...if it looks good, READ IT!