Hi guys and gals!
Welcome back to Satisfaction for Insatiable Readers.
Today, we're playing host to a stop along the Random House Children's Books tour featuring a NEWLY RELEASED Picture Book you're gonna want to see to believe. No, really...and it not only has ridiculously awesome illustrations going for it, but interactive fun too! So, if you're ready, grab your flame retardant gloves and prepare for a flame-tastic adventure as we discover...
by
Tom Fletcher
Illustrated by
Greg Abbott
9781524766382
Random House Books for Young Readers

It's a BIRD!
It's a PLANE!
It's an...EGG?
Well, at least it WAS until you turned the page...
...now we've got a little FIRE BREATHING surprise...
...and though he is BEYOND CUTE...
...books and flames don't exactly play well together.
Uh-oh...you DID wear those fame retardant gloves, right?
From the moment we're invited to tickle his cutesy little nose (bless you!) to the moment we're using our imagination to help put out the accidental ignition, you can't help but be drawn into this one. The dragon is TOO CUTE for words, and all his efforts, combined with those of his reading audience, go a long way in making this not only a memorable read, but one that may just survive despite a baby dragon's mistake! Kiddos will adore the images, as well as the invitation to help our dragon baby out of his predicament! Trust me, whether young or young at heart, you'll be trying to smother things here, flap things there, and ultimately trying to close the final page with utmost care (eek!), as we come to the aid of our dragon friend. So whether a bedtime read, or story time selection, you can't go wrong when you have a dragon in your book...

~~~~~~~~~~~~~~~~~~~~~~~~~~~~~~~~~~~
About the author...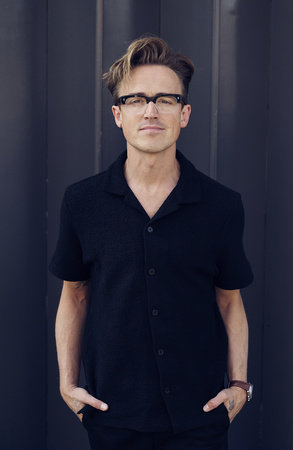 Photo: © Tom Fletcher
TOM FLETCHER is an award-winning songwriter, as well as a children's author, YouTube star, daddy, and McFly band member. He has a huge social-media presence, and his viral videos have been featured on Good Morning America. He and his bandmate Dougie Poynter are the co-authors of the Dinosaur That Pooped picture books, which have sold over one million copies in England. Tom is married to the author Giovanna Fletcher, and they have two children.
~~~~~~~~~~~~~~~~~~~~~~~~~~~~~~~~~
Special thanks to Emily at Random House Children's Books for the ARC for review as well as the chance to bring this tour to you. (THANKS!) For more information on this title, the author, or the publisher, feel free to click through the links provided above. This title celebrated its BOOK BIRTHDAY 09/04/18, so be on the lookout for it on a bookstore shelf or virtual retailer of your choosing.
Until next time, remember...if it looks good, READ IT!