Hi there!
Welcome back to Satisfaction for Insatiable Readers.
Today, we're taking the world by storm with a Historical Fiction release that needs to be on your radar. It hit bookstore and virtual shelves this past August via Dutton, and while there was certainly buzz about it, it didn't do it nearly enough justice. So, put on your finest attire and meet me at the door as we prepare to walk into history and change the path of our stars with today's book of choice...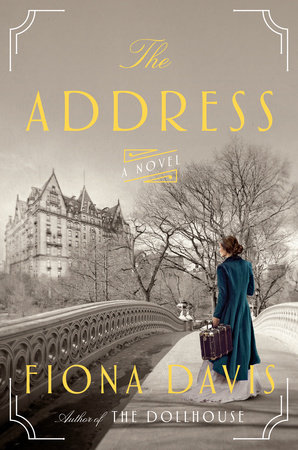 by
Fiona Davis
9781524741990
Dutton
About the book...
Fiona Davis, author of The Dollhouse, returns with a compelling novel about the thin lines between love and loss, success and ruin, passion and madness, all hidden behind the walls of The Dakota—New York City's most famous residence.
After a failed apprenticeship, working her way up to head housekeeper of a posh London hotel is more than Sara Smythe ever thought she'd make of herself. But when a chance encounter with Theodore Camden, one of the architects of the grand New York apartment house The Dakota, leads to a job offer, her world is suddenly awash in possibility—no mean feat for a servant in 1884. The opportunity to move to America, where a person can rise above one's station. The opportunity to be the female manager of The Dakota, which promises to be the greatest apartment house in the world. And the opportunity to see more of Theo, who understands Sara like no one else…and is living in The Dakota with his wife and three young children.
In 1985, Bailey Camden is desperate for new opportunities. Fresh out of rehab, the former party girl and interior designer is homeless, jobless, and penniless. Two generations ago, Bailey's grandfather was the ward of famed architect Theodore Camden. But the absence of a genetic connection means Bailey won't see a dime of the Camden family's substantial estate. Instead, her "cousin" Melinda—Camden's biological great-granddaughter—will inherit almost everything. So when Melinda offers to let Bailey oversee the renovation of her lavish Dakota apartment, Bailey jumps at the chance, despite her dislike of Melinda's vision. The renovation will take away all the character and history of the apartment Theodore Camden himself lived in…and died in, after suffering multiple stab wounds by a madwoman named Sara Smythe, a former Dakota employee who had previously spent seven months in an insane asylum on Blackwell's Island.
One hundred years apart, Sara and Bailey are both tempted by and struggle against the golden excess of their respective ages—for Sara, the opulence of a world ruled by the Astors and Vanderbilts; for Bailey, the free-flowing drinks and cocaine in the nightclubs of New York City—and take refuge and solace in the Upper West Side's gilded fortress. But a building with a history as rich—and often tragic—as The Dakota's can't hold its secrets forever, and what Bailey discovers in its basement could turn everything she thought she knew about Theodore Camden—and the woman who killed him—on its head.
With rich historical detail, nuanced characters, and gorgeous prose, Fiona Davis once again delivers a compulsively readable novel that peels back the layers of not only a famed institution, but the lives—and lies—of the beating hearts within.
~~~~~~~~~~~~~~~~~~~~~~~~~~~~
The Dakota THEN
A perfectly balanced tale, from both past and present, combining elements of mystery, madness, and romance...after all, they are all different sides of the same emotion.
Often times I find stories written in both past and present hard to keep sorted, making it easy to mis-remember details, characters, and events, but the author tamed any potential issues with the deft stroke of her pen, allowing readers the simple pleasure of getting lost in a wonderful book. Diving into the past with Sara, and Theo, while witnessing the Dakota in its prime, simultaneously seeing its decline in the present as well as the evolution of the inhabitants over time, was enveloping...I really felt I was there in the given time period, experiencing the world as they did. The mysteries, deceptions, and misconceptions that unfold along the way took your emotions into overdrive. I mean, how can you NOT be outraged when a man acts as though he deserves anything and everything he desires regardless of the other party's needs, or when someone is hoodwinked by another due to their kind heart and generous spirit, or even when a lifelong friend betrays that bond when it matters most? By book's end, I was as fired up as the characters themselves who were mistreated, misdirected, and otherwise led astray....but also filled with an unexpected understanding of what might drive one to certain spontaneous actions, giving you results you hadn't even dreamed of. *gulp*
The Dakota NOW

Overall, it was a great read! You'll be in wonder at the twists fate delivers to the unsuspecting soul. You'll delight in the sheer pleasure Sara finds in the everyday. You'll despair over Bailey's fight with not only her inner demons but her potential family history. You'll be in shock at how easily one can go from stable, upstanding citizen to questionable mental status all with the right (or rather wrong) accusation...especially back then! Recommended for
Historical and general Fiction fans alike...as well as those who simply love a grand story to wile away an afternoon that takes place at THE place to be, past or present.
~~~~~~~~~~~~~~~~~~~~~~~~~~~~~
About the author...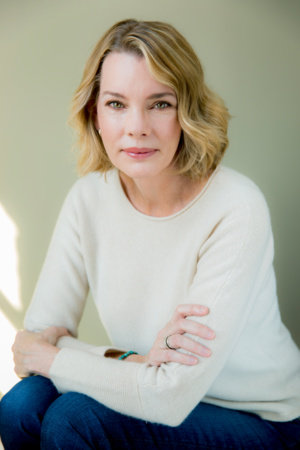 Photo: © Kristen Jensen
Fiona Davis
lives in New York City and is a graduate of the College of William & Mary in Virginia and the Columbia University Graduate School of Journalism.
The Dollhouse
was her first novel.
~~~~~~~~~~~~~~~~~~~~~~~~~~
Special thanks to Becky at
Penguin Random House
for the ARC for review. (THANKS!) For more information on this title, the author, or the
publisher
, feel free to click through the links provided above. This title is available now via Dutton, an imprint of Penguin Random House, so be on the lookout for it on a bookstores shelf or virtual retailer of your choosing.
Until next time, remember...if it looks good, READ IT!